Apple AirTag
The AirTag is a small, button-shaped tracking device with a glossy white front that can be customized with an engraving and a silver backing. AirTags are designed around the CR2032 batteries that are inside, and need additional accessories to attach to an item.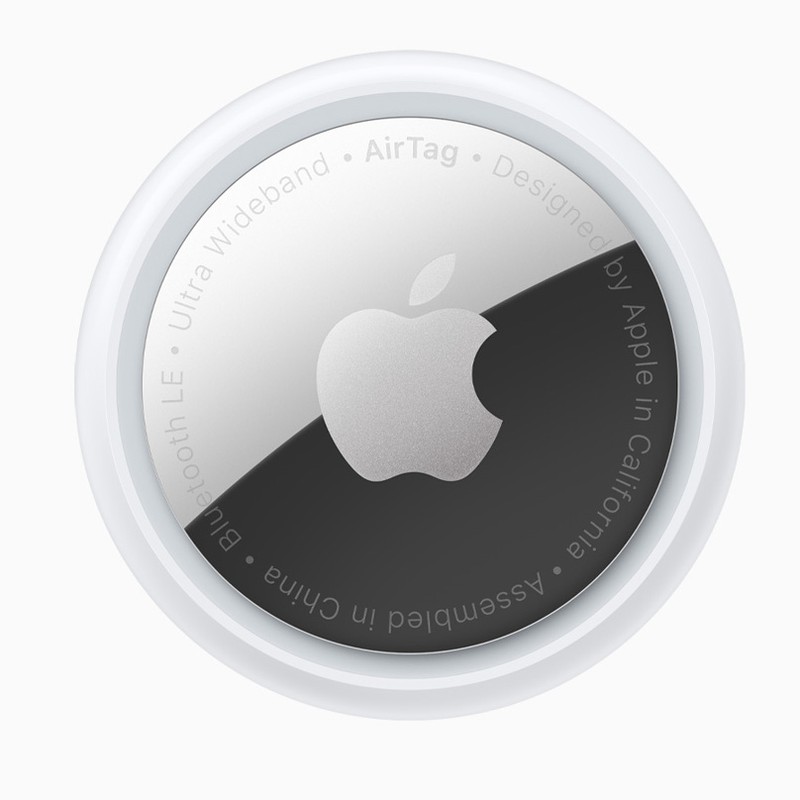 AirTag measures in at 1.26 inches in diameter, and it has a height of 0.31 inches, or 8mm. It weighs 0.39 ounces (11 grams).
You can't, for example, pair a Horse Face emoji with the Pile of Poo emoji, nor can you use curse words.
AirTags Features
AirTags are added and managed in the ‌Find My‌ app under the "Items" tab that Apple introduced in iOS 14.3. Like other Apple devices, each AirTag is displayed on a map in the ‌Find My‌ app so you can see its location. AirTags connect to your iOS and macOS devices over Bluetooth.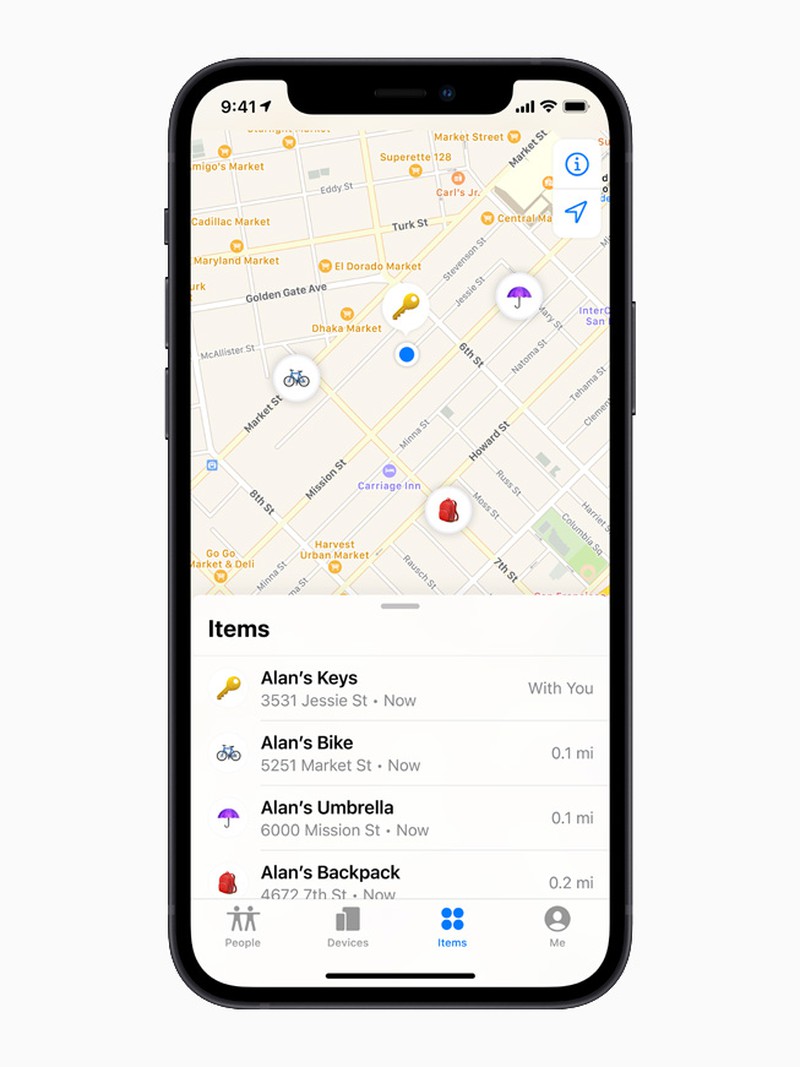 Apple added a U1 chip in each AirTag so you can see its precise location indoors or out if it's nearby, or its last known location if it is not. There are built-in speakers to play a sound to find a lost AirTag in the house, and you can either play a sound through the ‌Find My‌ app or ask Siri to find an AirTag with a sound.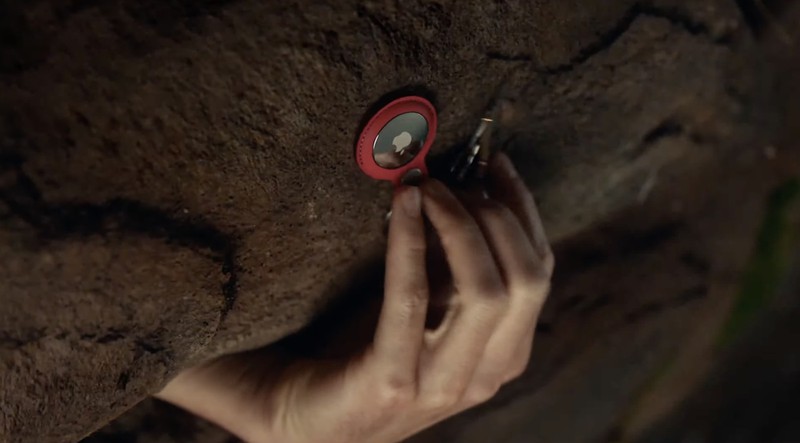 If an AirTag is lost or stolen, the ‌Find My‌ network can help you find it. The ‌Find My‌ Network takes advantage of hundreds of millions of iPhone, iPad, and Mac devices to help you locate an AirTag, with the AirTag showing up on a map when it is located by someone else's device.
In Lost Mode, an AirTag will automatically send out a notification when it's detected by someone in the ‌Find My‌ network, and you can add your contact info so someone who finds your item can get in touch with you.
Separation Alerts
Apple in iOS 15 added Separation Alerts to the ‌Find My‌ app, which are designed to let you know if you leave an Apple device, a device attached to an AirTag, or a Find My-enabled third-party device behind.

You can set up Separation Alerts in the ‌Find My‌ app, so if you want to make sure your ‌iPhone‌ is always with you or that you don't leave the house without the keys, this is the feature to use.
AirTags Battery
AirTags use a replaceable CR2032 battery that is designed to last about a year before it needs to be replaced. The batteries are user replaceable, and to swap out a battery, you can press and twist on the back panel of the AirTag to pop it off.
If your AirTag is low on battery life, you'll get a notification that the battery needs to be replaced.
AirTags Charging
There is no need or way to charge an AirTag because Apple designed them with user replaceable CR2032 batteries.
AirTags Range
Apple has not yet provided details the range of the AirTag, but the maximum Bluetooth range is around 100 meters, so an AirTag should be trackable at least to that distance. More experimentation will be necessary to find more specific range information.
AirTags Water Resistance
The AirTag features an IP67 water and dust resistance rating, which means it can withstand immersion in water up to one meter (3.3 feet) for 30 minutes in laboratory conditions. That means the AirTag will hold up well to liquid exposure from rain or accidental spills.
AirTags Privacy and Security
Each AirTag you own is linked to your ‌Apple ID‌ and no one else can track it. Location data and location history are not stored on the AirTag, and devices that relay the location of a lost AirTag stay anonymous and location data is encrypted every step of the way.
You may see where your lost AirTag is on a map if it's picked up by someone else's device, but you won't know the identity of the person that helps find it. Apple also does not see where AirTags are located because of the end-to-end encryption.
AirTags have unique Bluetooth identifiers that rotate frequently, a feature that ensures you're never tracked from place to place.
Unwanted Tracking Prevention
Apple has built in security restrictions that are designed to prevent an AirTag for being used for unwanted and secretive tracking purposes.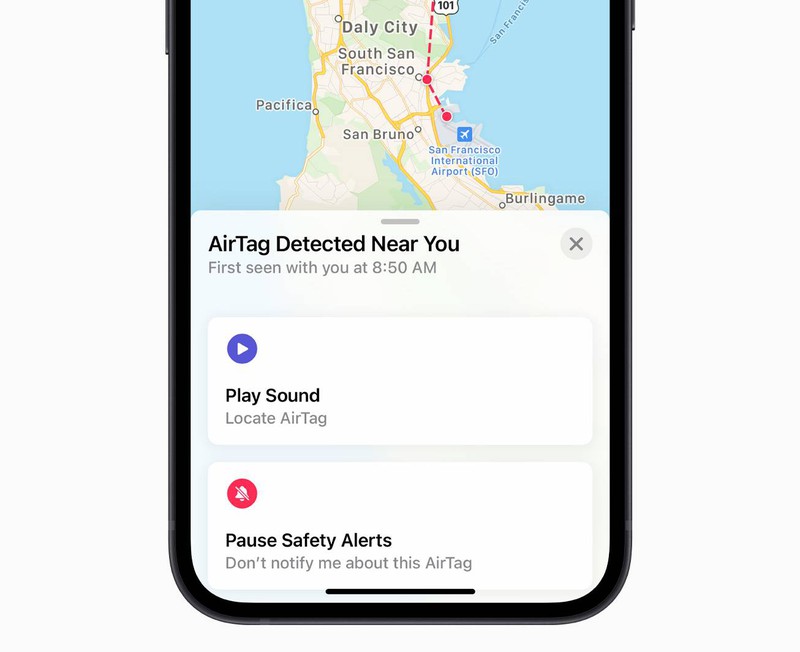 If an AirTag that someone else owns is in your belongings and has been traveling with for you awhile, your ‌iPhone‌ will send you an alert about an AirTag being detected near you, which will prevent someone from tracking you with a planted AirTag. You will get an alert on an AirTag that's with you when you return to your home address or to a location that's frequently visited.
When this happens, you'll see a notification that says "AirTag Detected," which you can tap to disable the AirTag. If the AirTag is attached to an item you're borrowing, you can choose to turn off "AirTag Detected" notifications for one day. If it's an item from a family member, you can turn off Safety Alerts for those who are in your Family Sharing group.